Shuffleboard Table Buying Guide

11

min read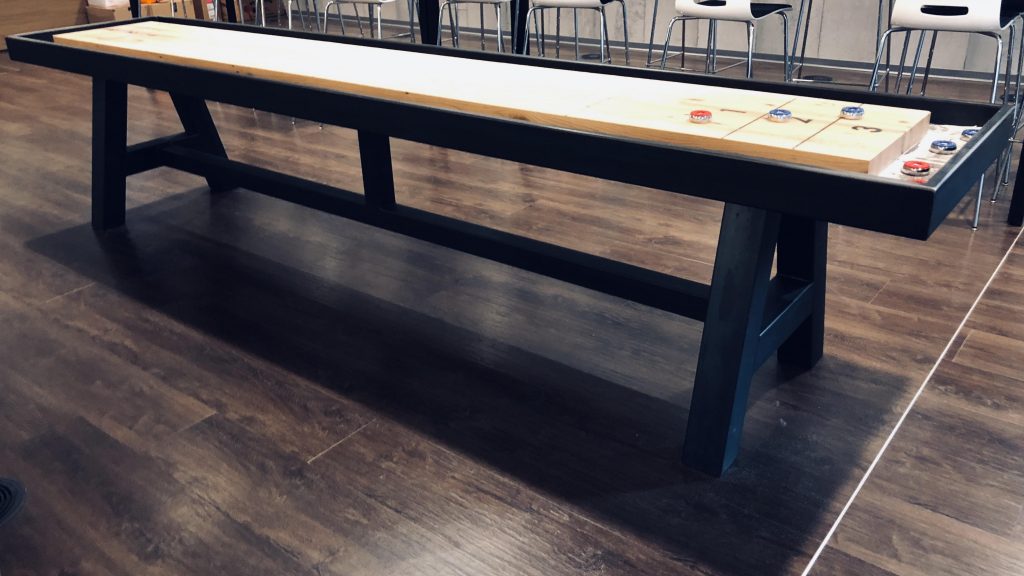 We all love to make the occasional impulse purchase – whether it's something simple like a chocolate bar or something more expensive like a big screen TV. When it comes to something like a shuffleboard table though, there's nothing like planning ahead. Shuffleboard tables can be very pricey with the best shuffleboard tables topping several thousands of dollars. Rather than splurging on a shuffleboard table on impulse, it's worth your time to carefully consider a number of factors to make sure you end up with a shuffleboard table that's right for you. Factors to consider include available space, table dimensions, cost, material and finish.
We've put together this handy shuffleboard buying guide to help you make an informed decision. Check out the most important factors to consider, so you can understand how to buy the right shuffleboard table that you can enjoy for years to come:
What Size Should You Get?
The biggest and most important question is – what size shuffleboard table should you get? Shuffleboard tables come in a wide variety of sizes, usually starting from 9-foot long tables all the way to 22-foot long tables. You can also find tables as short as 8 feet, depending on where you look.
While you have a wide variety of sizes to choose from, that doesn't mean you can just buy whatever size of table you want. The ideal shuffleboard dimensions depend mainly on your available space. Even then, it doesn't mean you can get a table that would fit exactly within the space you have available. You need to consider clearance space so there's enough room to play the game comfortably.
When measuring your space for a shuffleboard table, make sure you keep a clearance space of at least 2 feet on all four sides of the table. It's even better if there's more space available, but 2 feet should be your minimum consideration. This will ensure that you don't cram a table where it doesn't fit, and that players can easily move around while playing the game.
While most shuffleboard buying guides focus on the length of the table, it's also crucial that you consider the width. If you're going to properly enjoy playing the game, the board surface should be wide enough for sufficient puck movement. Avoid buying anything that's smaller than 18 inches in width, even if you're planning to use shuffleboard pucks that are smaller than standard size.
There are shuffleboard tables with smaller board surface widths available and these tables are generally cheaper. However, if you're looking to enjoy playing the game, finding a table with sufficient width is important.
What Material Would Be Ideal?
Just like there is diversity in shuffleboard dimensions, there's also variety when it comes to material. It's an important factor to consider because it will determine the durability of the shuffleboard table. So knowing which material to choose will help you learn how to buy the shuffleboard table that's right for you.
Shuffleboard tables face the risk of damage from high impact and dropped pucks. Once damaged, the table can be expensive to fix. That's why you should look for a table that's made of durable wood, which will endure high impact and withstand the test of time.
The common materials used for shuffleboard tables are Russian Birch, North American Maple Wood, Poplar, White Maple, and Canadian Soft Maple. Ideally, you should get a shuffleboard table with a solid hardwood playing surface. These are more durable and more immune to dings and dents, as well as other accidental damage. The best materials you can get are birch, a hard maple, mahogany, and oak.
But if those are out of your budget, you can also go for a more economical option like soft maple with an epoxy resin finish. Although soft maple isn't as durable as hardwood, the epoxy finish increases its resiliency.
Which Finish Would Be Most Durable?
Another important aspect to consider when buying a shuffleboard table is the finish. There's a high risk of accidental dents and scratches, especially when you're in the process of learning how to play shuffleboard or playing with beginners. Pucks might accidentally be dropped on the table or slide too hard, which can cause accidental damage if the finish isn't strong enough. The resulting dents, divots and cracks affect game play and make accuracy more difficult as pucks may be diverted from their course or significantly slowed down.
Lacquers and shellacs were the standard finishes used when shuffleboard first became popular 50 years ago. But these traditional spray-on finishes aren't too durable, and would usually wear out within 3-4 years. If you decide to go with a lacquer or shellac finish, plan to refinish your table every few years to maintain a nice playing surface.
Now, the most popular finish is epoxy resin. It's poured over the top of the table which prevents air bubbles from forming on the playfield. Poured finish is crucial to ensure there are no imperfections on the surface. Poured epoxy resin makes it much easier for your puck to slide across the playing surface. This ensures higher accuracy for your shots, which improves your game play. But that's not the only reason why epoxy resin finishes are ideal. They are also highly durable which improves the lifetime of your shuffleboard table with minimal maintenance.
Epoxy resin finishes are so durable that manufacturers often provide a lifetime warranty. They are typically ¼ inches thick, which is almost like an additional layer of solid material on top of the table surface. As mentioned earlier, an epoxy resin finish would add extra durability even for more delicate woods like soft maple. It will ensure that your table doesn't get scratched or dented even from dropped pucks.
Playing Field Thickness
Shuffleboard tables should have sufficient playing field thickness so as to provide sufficient stability. Plus, this will allow some room for sanding in case you need to refinish the table in the future. Shuffleboard tables are usually 3 inches thick, which is something you should ideally aim for. And keep in mind that this should be the thickness of the actual wood, not the combined thickness of the wood and the finish.

It's important to keep a careful lookout for this when you're considering buying a shuffleboard table. That's because some shuffleboard tables may have too much epoxy resin on the top and not enough thickness of the actual wood. Usually, the number of inches you see in the product description will include the thickness of sealants and finishes. In other words, what's advertised as 3 inches refers to the thickness of the wood combined with the thickness of the finish.
So, as you're searching for the perfect new shuffleboard table, you should not assume that the number in the description is referring to the actual thickness of the wood. Most contemporary models will have sealant and finishes that are around 0.25 to 0.5 inches thick. Knowing these numbers will help you make accurate calculations on the actual wood thickness. Some manufacturers will even be courteous enough to mention that all the measurements are +/-0.25 inches. Ideally you aim for 3 inches of hardwood and the rest be sealant and finishes.
If the product description is too vague and if you don't want to take a risk, it's best if you contact the manufacturer and inquire about the actual wood thickness. Most manufacturers will give you the option to either submit a Product Q&A or contact them directly.
Climatic Adjusters
An important additional feature you should look for when buying a shuffleboard table is climatic adjusters. These are metal bars that are located under the table and run along its width. These adjusters are essential because they prevent the table from warping and help maintain its correct shape over time. So these are additional features you definitely need, regardless of whether you're considering outdoor vs. indoor shuffleboard tables.
These climatic adjusters help you make adjustments to the table when it gets affected by temperature and humidity levels. This prevents misalignment, thereby improving game speed and accuracy. In other words, climatic adjusters are an important key to maximizing your shuffleboard game play.
Even if the shuffleboard table you buy doesn't come with climatic adjusters, you do have the option of buying them separately and then having them installed. But that's going to cost a lot more time and effort. So it's best to look for one that already comes with pre-installed climatic adjusters to save you the trouble.
The number of climatic adjusters depends on the size of the table. But you will usually find somewhere between four and six adjusters. If you're buying a table online, you should be able to read the product specifications to see if that particular model comes with pre-installed climatic adjusters.
The Outer Cabinet
Although it's commonly believed that the outer cabinet doesn't affect the game play, the weight and structure do play an important role. Most people are under the impression that the cabinet is only important for aesthetics. But since it is the element that holds the entire table together, it is just as important as the actual playing field.
Cabinets made of solid hardwood tend to be heavier and firmer. So they add weight that holds the table in place during particularly intense games. But of course, they would be slightly more expensive. You can usually find cabinets made of walnut, pine, maple, and more. More economy models will come with an MDF particle board as a cabinet.
You'll also have a range of finishes to choose from including veneers and laminates. But make sure you carefully read the product description because the manufacturer may only mention the finish instead of the cabinet material. For instance, "oak finish" isn't the same as a cabinet made of oak.
Some manufacturers may be a bit more specific with their description. They might include the cabinet material in the name of the model, and then give you an option to choose the finish separately.
As mentioned earlier with the thickness, you shouldn't hesitate to get in touch with the manufacturer if there is some confusion about what the outer cabinet is made of. Some manufacturers will only display the color of the finish without mentioning what the cabinet is made from. Some will describe the wood as "solid wood." So make sure you reach out to them in such cases to get a straight answer if this is something you feel is important.
Other Considerations
These are some of the most important factors that will help you understand how to buy the right shuffleboard table. And there are also additional considerations that might help you make an even better buying decision. Check them out:
Scoring System – You can usually find two types of shuffleboard scoring grids on shuffleboard tables. The most common option is the 3-level grid. This one is also popularly called the 1-2-3 scoring system. You may also come across shuffleboard tables with a triangular scoring grid such as the ones you would find on floor shuffleboard courts, sometimes referred to as outdoor shuffleboard. This grid has a triangle divided into six different scoring sections. So you should carefully consider which one you'd like to use more before you make a purchase.

Cost and Condition – As mentioned at the beginning of the post, shuffleboard tables tend to be expensive. Some of the best ones are handcrafted and made to order, usually costing over $6,000. Among the smaller ranges, you might be able to find decent-quality readymade tables for upwards of $800. However, manufacturers and sellers do run sales every once in a while. So if you're in the market for economy tables, it might be wise to wait for those sales.

If you're not necessarily looking for a brand new table, you could even keep your options open and look for used ones. Some might require a bit of sanding and refinishing, while others may be in perfectly good condition. As long as you're not in a hurry to buy one, you can definitely keep looking till you come across a used shuffleboard table that's of good quality and available for a steal.
Bottom Line
This comprehensive shuffleboard buying guide should have given you an in-depth look at the crucial factors to consider before buying a table. If you have a clear idea of what to look for and what you prefer, you should have no trouble making a wise decision.