8 Best Shuffleboard Puck & Weight Sets

9

min read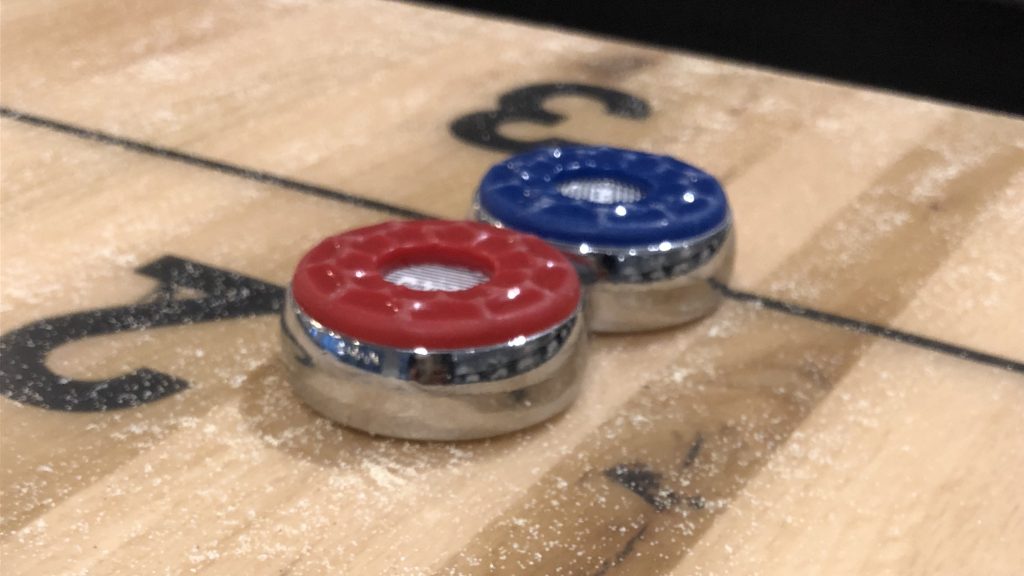 You've purchased your first shuffleboard table so you can play at home with your family and friends. Now it's time to find a quality set of shuffleboard pucks (also known as a shuffleboard weight) to play with since you don't want to compromise the experience with some cheap pucks. A bad puck can really put a downer on your shuffleboard game; it can be hard to hold, difficult to aim, snowplow the wax or may even fall apart after just a few months of play. So we've reviewed a number of tabletop shuffleboard pucks and put together a handy list of shuffleboard pucks & weights that we think will improve your shuffleboard game playing experience for a long time plus we added some frequently asked questions about shuffleboard pucks towards the end of this post.
The 8 Best Shuffleboard Pucks and Weights
1. Yihao 2 5/16" Shuffleboard Pucks – Best Bang for your Buck
Yihao has an great set of shuffleboard pucks at an awesome price. The material is solid and feels good in your hand. You also conveniently get to choose what size pucks you want compared to other sets if you purchase on Amazon. Most importantly, these pucks have beveled edges which makes this set of shuffleboard pucks a great value given the price. A regulation sized set of these pucks is less than $100 and you won't have to deal with shuffleboard wax trails when you slide the pucks.
Pros
Great value
Beveled edge
Good quality
Choice of medium or regulation sized pucks
Cons
Comes with no accessories
2. American Shuffleboard Pucks – Best All Around Pucks
While these pucks are slightly more on the pricier side, this set of regulation sized pucks are a worthy investment if you're looking for a high quality puck set. The craftsmanship is flawless and the beveled edges make the pucks travel fast and smoothly. Also, there won't be any "snowplowing" through the shuffleboard wax leaving wax trails and you'll feel you have maximum control of the puck. All in all, these pucks will definitely enhance your gameplay if you're playing competitively or even just for fun.
Pros
Beveled Edges
Regulation Size
Great quality and weight
Fast & Smooth Gameplay
Cons
Pricier than other shuffleboard puck sets
Comes with no accessories
Slower Delivery
3. TORPSPORTS Shuffleboard Pucks
TORPSPORTS has put together a fine set of mid-priced shuffleboard pucks. These pucks have a solid feel to them and are well-crafted and designed with the brand logo etched in the middle of each puck. With a beveled edge, these pucks go smoothly and fast down any shuffleboard table and have a nice bounce when they hit other pucks. Whether you're playing on a 9 foot, 16 foot or 22 foot shuffleboard table, these pucks will give you years of quality gameplay.
Pros
Beveled Edges
Great quality and weight
Fast & smooth gameplay
Pucks shipped and packaged effectively
Cons
Comes with no accessories
Non-regulation size
4. Billiard Evolution Shuffleboard Pucks
These shuffleboard pucks are a great value for anyone looking for an inexpensive set of shuffleboard pucks for casual or recreational play. While the pucks don't have beveled edges, the pucks still travel fast but they do "plow" the wax slightly. If you're looking for an inexpensive, durable, regulation size set of pucks and don't care as much about the plowing aspect, this would be a good set of pucks to purchase.
Pros
Regulation size
Quality and durable pucks
Great for casual play
Cons
No beveled edges which leads to wax build up and trails
5. Hathaway Shuffleboard Pucks with Case
Hathaway has a nicely put together set of pucks in a quality wooden case. The craftsmanship and quality are definitely there but the size of the pucks aren't for everyone. They are a lot smaller than advertised unfortunately, but if you can get past that, the actual pucks themselves have a solid weight to them and work well on smaller tables. One thing to note is that these pucks don't have a beveled edge which causes "snowplowing" of the powdered wax.
Pros
Good for smaller tables
Solid quality, well constructed
Case is a nice plus
Less expensive than other sets of pucks
Cons
No beveled edges which causes some plowing
Medium sized pucks, non-regulation size
6. Zieglerworld Shuffleboard Puck Weights & Accessories
If you want pucks and accessories, then this shufflepuck package deal is just what you're looking for. The pucks themselves are well-made, featuring plastic curved blue and red caps and a standard metal base. As good as the pucks are, what really puts this buy over the top is all the accessories. There's their famous talc powder, their rule booklet, and their fastest shuffleboard wax make this a great set to buy.
Cons
Flatter sides which could cause plowing
$10 shipping
7. Sun-Glo Spangler II Medium Shuffleboard Pucks & Accessories
These Sun-Glo pucks have a nice look to them and are overall solid pucks. They are medium sized pucks though which means non-regulation size and work better on smaller shuffleboard tables. The shuffleboard wax is a nice bonus but it's on the slower end of the speed rating. Definitely more pricey than some of the other pucks but you get a solid puck for your buck. Sun-Glo also makes some quality scoreboards.
Pros
Comes with Shuffleboard Wax
Good quality
Best for shorter tables (12 feet or less)
Cons
Medium sized, non-regulation size
$10 Shipping
Pricier
8.) Fancyus Shuffleboard Pucks
Fancyus has a set of shuffleboard weights that has an open center and is made of a quality chrome plated resistant steel. The beveled edges are nice and for the most part don't plow the wax. They're ideal for any size shuffleboard table, be it a 14 foot or a 22 foot table. They have a solid feel to them and should hold up for some time so you can enjoy your shuffleboard games with your friends and family. These pucks also come in regulation and non-regulation size.
Pros
Good quality
Beveled edges
Easy to grip
Cons
No Accessories
May still plow wax even with beveled edges
What should I look for in a quality shuffleboard puck & weight set?
When it comes to evaluating Shuffleboard Puck sets, the quality of the weight you use has a big effect on your shuffleboard game. Basically, if you're playing table shuffleboard with one of those run of the mill weights, like the ones without any curves or beveled edges, you're going to have issues playing since straight edges will plow the powdered wax leaving trails and offer less control.
For that reason, it's important to invest in a good set of shuffleboard pucks or weights and here are some things to consider when you're about to buy a set:
Crafted by a reputable brand (i.e. Sun-Glo, Zieglerworld, McClure)
Beveled edges for maximum control of the weights and to prevent snowplowing
Made from quality materials such as ABS plastic for the plastic side of the puck and a denser metal that can handle being repeatedly bounced off rails, gutters, and other pucks (i.e. Stainless Steel or Chrome)
The components used to put together the weights are also of top quality. For example, the screws used to put the puck together should be made from steel rather than plastic. If steel is used, the puck should hold up much longer
What size do Shuffleboard Pucks come in?
Shuffleboard pucks come in two sizes:
Recreational Sized Shuffleboard Pucks – These are designed and recommended for people who are new to the game and just want to learn and have a good time. For your indoor playing space, these would be the weights you'd want to get to begin with. They're smaller in size and are better for smaller tables (less than 15 feet).
Regulation Sized Shuffleboard Pucks – Unlike recreational pucks, these pucks are larger and are used on much larger tables for tournament play. They're for the more advanced, high skilled player who has a really good understanding of how to shoot, score, defend, and play.
Both recreational and regulation weights weigh between 11.5 to 15 ounces (326 grams to 425 grams). Regulation size shuffleboard table pucks & weights are 2 and 5/16 inches (58 millimeters) while non-regulation size shuffleboard pucks & weights are 2 and 1/8 inches (53 millimeters).