7 Tips to Buying a Cornhole Set

8

min read
Cornhole sets may not be particularly expensive, but no one wants to spend their money on something that will break after just a few games. Regardless of how much you're willing to pay, you still want a cornhole set that gives you good game play and will last for a while. That's why you need to carefully consider various factors like the material, size, purpose, etc. before buying one. Check out this buying guide as a resource to discover what things to look for in a cornhole set.
1. Consider Your Skill Level
Before you can even start considering factors like size and material, the first thing you need to consider is your skill level. This will help lay the foundation for what things to look for based on your personal requirements. You could fall under any of the following skill levels:
Novice – If you're a novice, you likely play cornhole occasionally just for fun. Maybe you play it in the backyard with friends and family. Or perhaps you've tried playing it at some party and now you want to get one for yourself. In this case, you probably don't have a lot of needs, so there's no point in spending upwards of $200 on a board that you're hardly going to use. Instead, opt for something that's cheap and decently-built that will let you play the occasional cornhole game when you have people over. Although if you have plans to brush up your cornhole skills and become a better player, it might be worth investing in more expensive sets.
Intermediate – Intermediate level cornholers are better than average at cornhole and want to keep getting better. Some may even be able to play like a pro, but haven't gone pro because of other priorities and obligations. Others may have serious goals of becoming pro cornholers.

Image Credit: Sean Hobson on Flickr

For these players, it's worth investing in a cornhole set that's approved by the American Cornhole Association (ACA). These boards will provide good game play with the right bounce and slide, helping them improve their skills.

Professional – Professional cornholers are enthusiasts of the game and they likely know all the ins and outs of the game – from the various cornhole slang terms to the history of the game. They might have even participated (and won) at a few competitions, with further plans to participate in more competitions. For these players, nothing but the best cornhole boards would do.
2. Determine Your Purpose
Although skill levels typically determine the purpose of buying a cornhole set, that's not always the case. Some professional players may already have a good set at home and just want to get something that they can enjoy at parties. And some beginners may be looking to improve their skills by practicing on regulation cornhole boards.
So an essential buying guide is to determine how you're going to use a cornhole set before you start looking for one. If you're looking for something that the whole family can enjoy (including younger players), for instance, you won't necessarily need a particularly good board. But you will need something with larger holes, which will make it easier for kids to score.
If you're looking for something to take with you to tailgating parties, you'll need to consider portability, and you'll need smaller boards that can fit at the back of your car or truck. In case you're looking for something to use at tournaments or to practice your skills, you'll definitely want to invest in a top-quality set that meets the ACA regulations.
3. Consider Various Cornhole Sizes
There are two main cornhole dimensions – regulation size and tailgate size. Carefully consider which of these sizes would be best for you based on your needs:
Regulation Size – Like we've covered in our previous post on cornhole rules, regulation-size cornhole boards should be 4 feet long and 2 feet wide. As for height, the front of the board should be between 3 inches and 4 inches tall while the back should be 12 inches tall.The playing surface should be at least 1/2" thick with the cross-section backing. Without the cross-section backing, it needs to have a minimum thickness of 3/4". As for the board, it should be 6" in diameter and located at the center of the board 9" from the top. Regulation size boards are typically for professionals and intermediate players who want to use it for practice, serious play, and tournaments.
Tailgate Size – Tailgate size boards are smaller than regulation size at 3 feet long and 2 feet wide. Other than that, there's not much difference between these two types of cornhole boards. And as the name suggests, these are ideal for tailgating parties. But that doesn't mean you can only use them for that. These boards would be suitable for casual play in your backyard.
Besides these, some brands offer junior-size boards that are around 2 feet by 1 foot. So if you're looking for something that would help acquaint your kids to cornhole, you could try looking for these dimensions.
4. Choose the Right Material
Another important factor to consider is the material, because it can significantly affect your game play. Plywood is the only material that the ACA recommends as a playing surface. This material minimizes the bounce on the bag when you toss it, improving the accuracy of your throw. So professionals and intermediate players would need to look for wooden cornhole sets.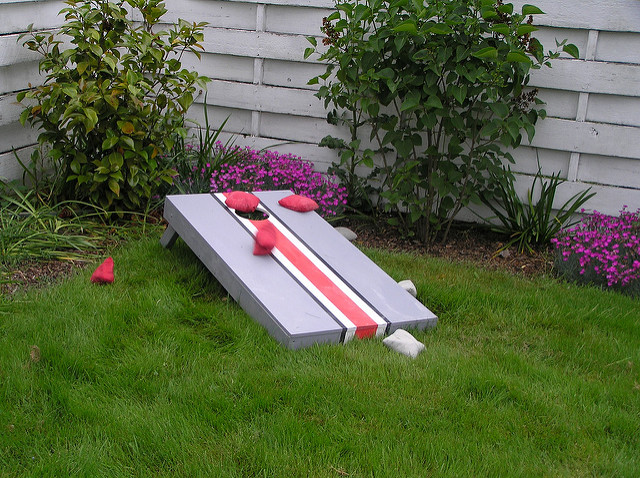 However, a well-made wooden cornhole board tends to be more expensive. Plus, they are quite heavy and do not offer as much portability as other materials. So if you're looking for lighter, less expensive boards to use only for casual play, you can opt for PVC boards. Fair warning though, this material will likely have a lot of bounce and can affect the accuracy of your game.
5. Consider the Cornhole Bags
A lot of cornhole sets come complete with a set of cornhole bags so you don't need to buy them separately. Most cornhole bags are the same regulation size and weight, at 6"x6" in dimension and 15 to 16 ounces in weight. However, you do need to consider the bag filling when buying a cornhole set.
Most cornhole set manufacturers now use plastic resin filling because they are weatherproof and last longer. But some players still prefer actual corn filling because the corn breaks down and produces dust, which makes the bags slide more easily on the board. At the same time, corn is prone to mold and mildew and can rot over time. There's also the fact that it can attract critters and you could one day wake up to chewed up bags with no immediate replacement.
So it's an essential buying guide to carefully consider these two materials and choose a cornhole set based on that. If you prefer a corn filling, you might have to buy the bags separately since most cornhole sets now come with resin-filled bags.
6. Explore Design Options
For professional cornhole tournaments, you would want to get a board that's painted white. This is because white boards are easier for the audience and judges to see. For casual play and practice, you can get a cornhole board in any design you like. Although plain boards would be cheaper, you do find cornhole boards with fancy designs like the American flag, state flags, etc.
Many players also prefer to customize their cornhole boards with custom decals and skins. This could be with their initials, team names, team logos, etc. So if aesthetics is a big concern for you, you should look for manufacturers that can make custom decals or do a custom paint job. Otherwise, you could even do your own paint job. You will need to use latex-based high gloss paint, but make sure they don't cause excessive sliding.
7. Additional Considerations
While our cornhole buying guide is essentially complete, there are several other considerations to make that could help you make an even more informed decision.
Accessories – Besides the cornhole boards and bags, some cornhole sets come with accessories like carrying bags for the bean bags. Some manufacturers even sell lighted cornhole sets in which LED lights are attached to the cornhole boards. But if you're not keen on getting these, you can still get lighting kits separately and install them on your own.
Warranty – Reputable manufacturers tend to offer reasonable warranties on their cornhole sets. This is something that you should consider if you're investing in an expensive set because you might need some maintenance or repairs over the years.
Bottom Line
After considering all these factors, you can check out our list of the best cornhole boards for some buying inspiration. There's no single cornhole set that's best for every player. What works perfectly for a beginner may not necessarily suit the needs of an intermediate player who's trying to brush up their cornhole technique.
So the most important rule is to consider your personal needs and preferences before deciding on a set. Use this buying guide as a resource for all the things you should consider when buying the ideal cornhole set for you.