Why Is It Called Cornhole? The History of Cornhole

7

min read
There's no denying that cornhole is a fun game that's perfect for outdoor events in the summer. While many of you may be just happy to play the game whenever you have the chance, there may also be the curious lot that has been wondering – why is it called cornhole? Yes, we'll wait as you get past the raunchy jokes. Anyway, moving on, before it made its way into college campuses and tailgating parties, where was the game played and who invented it? And most importantly, why corn?
In this post, we're going to delve deep into the history of cornhole so you can finally get all the answers that you've been looking for. So you won't just be able to master the game but also hit your friends with some fun cornhole facts that they haven't heard of before. Read on to learn more about the game and its history.
The History of Cornhole
Like many other recreational games, the history of cornhole is a bit murky. There is no clear documentation of where or how it originated, although there are plenty of assumptions and legends surrounding the game.
Some say that it was Native Americans, particularly the Blackhawk tribe that invented the game. It is believed that they used dried beans to fill up pigs' bladders and then tossed them around for competitive sport.

Some also say that cornhole originated in Cincinnati, where people would fill bags with kernels and toss them into plywood holes. Anyone who knows how popular the game is in this area would find it hard to argue the authenticity of this claim.
There are even stories of how cornhole was invented by a man named Jebediah McGillicuddy in Kentucky. It is said that Jebediah came up with a version of the game to pass the time with friends and family. But other than the vast popularity of the game in this region, there is no solid proof to this claim either.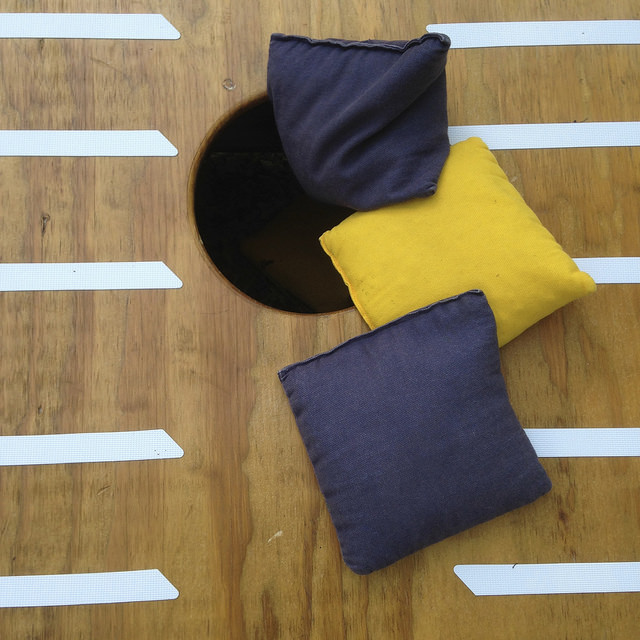 One of the most popular claims is that the history of cornhole began in Germany, when a cabinet maker named Matthias Kuepermann came across young boys who were tossing some rocks into holes they'd fashioned in the ground.
The story goes that their aim wasn't all that good, so he was concerned that they might injure themselves while playing the game. As a result, he came up with the idea of filling burlap bags with dried corn and building wooden boxes in which to toss the bags.
In another version of the story, the boys were tossing rocks into a groundhog hole. This meant that they had to keep retrieving the rocks, which put them in danger of being attacked by the groundhog. So he decided to build them wooden boards with holes of the same size. He then improved the game by replacing the rocks with corn-filled bags.
The game became quite popular for a while until corn prices began to rise in Europe. During the 1800's, German immigrants started playing it again in America because corn was abundantly available by that time. Some say that this is how the game rose to popularity in Cincinnati, because many Germans migrated to this area during the 1830's.
Its Evolution and Popularity in Modern Times
One of the most plausible theories assumptions on the origins of cornhole is that the game evolved from a game called "Parlor Quoits," which was patented in 1883 by Heyliger de Windt. The game's description includes most of the features of what we now call cornhole, but instead of a round hole, it has a square one.
Parlor Quoits is a variation of Quoits, which is similar to horseshoes. Players have to throw steel rings and try to get it to land over a metal spike or as close to it as possible. Like other "parlor quoits" patents before it, De Windt's patent also attempted to recreate the quoits game-play to make it suitable for an indoor environment, but his patent varied from the others in that it used bean bags and had a target made of a slanted board with a hole.
After a Massachusetts toy manufacturer bought the rights to the game, they marketed a version of the game and called it "Faba Baga." This too varies from the modern cornhole in that it has two holes of different sizes, each worth a different point. Each player gets an extra-large bag, which is worth double the points of the smaller-sized bag.
It's likely that the current popularity of cornhole as we know it today began when Popular Mechanics magazine published an article on how to make cornhole boards in their September 1974 issue. By the late 1970's and early 1980's, the game had spread to Chicago and Illinois, as well as Northwest Indiana.
Now besides gaining more popularity, the game has experienced some sort of evolution in terms of materials used. In addition to the regulation wooden boards, people have also started using cornhole boards made of composite material (some even have LED lights). This slightly affects the gameplay but provides an excellent solution for casual players on a budget.
But most importantly, the corn in cornhole bags has been replaced with plastic and resin pellets by a lot of cornhole manufacturers. The main reason for this is that corn isn't weather resistant. If it gets exposed to moisture for prolonged periods of time, it could easily develop mildew. So it's virtually impossible to clean your bags even if they get dirty, since you don't want to get the corn wet.
Corn is also more susceptible to decay, being a natural material. Another big disadvantage of using corn in cornhole bags is that it attracts critters. So at some point of time, you could experience critter-eaten bags, which would be a huge disappointment especially if you don't keep replacement bags handy.
Why Is It Called Cornhole?
Like the history of cornhole, the exact etymology of the name is also unclear. It's most likely that the name is supposed to be self-explanatory with "corn" denoting how you use bags of corn, and "hole" denoting the target hole in the board. When you manage to get your bag in the hole, it's also called a "cornhole," denoting that the "corn" is in the "hole."
Over the years, the name has stuck even when many people have switched from bags of corn to bean bags containing resin or plastic pellets. This is why the game is sometimes called bean bag toss.
However, there are still some people who prefer to use actual corn in their cornhole bag filling in spite of some of the disadvantages mentioned earlier. This is mainly because they enjoy the process of breaking in a new set of bags.
The corn in the bags lets out a fine dust as it breaks down, which can affect game play. It provides a dry lubrication of sorts that slightly helps the bags slide on the surface of the cornhole board, improving the chance that the bags can easily slide into the hole with the right throw. Some also say that the dust gives you an authentic cornhole experience. This is why there's a saying – the dust is a must.
There are some people who believe that to play cornhole, you have to use actual corn. And using bean bags means you're playing bean bag toss instead. The name of the game also varies by location. Aside from bean bag toss, other alternative names for cornhole include dadhole, dummy boards, doghouse, bags, or baggo. Regardless of the name, the rules of the game remain the same and it is just as enjoyable.
Final Thoughts
Based on what we've discussed here, it's clear that the exact history of cornhole is muddled with legends and assumptions. Since there is no proper documentation of its origin, we can only go by the claims of people in regions where the game received early popularity.
Regardless of how it originated or who invented it, it has become a favorite game for outdoor events and now you know a few random anecdotes about the game that could make for an interesting discussion in the future or at least another piece of insight to add to your trivia knowledge arsenal.