7 Best Kites for Adults of all Skill Levels

9

min read
Often misjudged as a pastime only for kids, kite-flying is a sport that many adults enjoy around the world. Be it as a pastime or a competitive sport or even for kite-fighting, be it for beginners and experts alike, finding the right type of kite in the best possible quality is critical for a fun kite-flying experience. This article will show you some of the best kites for adults to help you make an excellent pick.
Main Types of Kites to Consider
First, let's find out the main types of kites you should consider before you shop for one. Some of the different types of kites include:
Delta Kites: This is one of the most popular types of kite and is great for beginners because it's easy to use. Delta kites are triangular in shape and have a keel to hold the spine straight with a spreader that maintains the shape.
Diamond Kites: Popular among kids and beginners, these diamond-shaped kites make for a good option for people who are just starting out. They're also easy to make on your own and can be very sturdy if you use the right materials.
Parafoil kites: Unlike other types of kites, parafoil kites or foil kites don't have a rigid frame and are less susceptible to damage even if you crash them against hard surfaces. These kites have an upper and a lower skin with vertical ribs sewn in to create smaller cells that fill up with air.
Cellular kites: These three-dimensional kites come in various shapes and sizes, often with elaborate designs. Box kites are likely the most popular type of cellular kites. These type of kites usually need stronger winds to take flight as they are often heavier than other types of kites.
Stunt or Sport kites: Well-loved for their ability to perform stunning maneuvers in the air, stunt kites are perfect for performing kite tricks. They usually have dual-line control which makes their movement easier to control than kites with single-line control. Some stunt kites even come with quad-line control, so you can get them to perform really precise movements.
7 Best Kites for Adults
If you're in the market for a new kite, you'll need to find something find that fits your skill level and your intended use. Here are some of the best kites for adults for different skill levels:
1. In the Breeze Tie Dye 62 Inch Sport Kite – Dual Line Stunt Parafoil
This parafoil dual-line control stunt kite by In the Breeze gets the first pick as it offers superb features at a considerably low price.
What we like
Made with weather-resistant ripstop fabric, this kite is durable enough to withstand high turbulence and wind speed. It offers excellent value for money at less than $30. This kite is perfect for beginners who want to practice kite tricks with dual-line controls.
It has a stunning appliqué design with tie-dye print fabric, so you can be sure that it'll draw some attention. Plus, it requires no assembly other than connecting kite lines.
Other considerations:
This kite needs a good breeze of at least 6mph to fly steadily so don't forget to consider the usual speed of wind in your area before getting it.
Pros:
Value for money
Easy to fly
Easy to assemble
Ideal for beginners
Unique design
Durable
Cons:
2. HQ Kites Symphony Beach III 1.3 Stunt Kite 51 Inch Dual – Line Sport Kite
This dual-line kite with its simple yet striking design is an excellent pick for beginners to learn and perform kite tricks.
What we like
This kite needs no assembly and is easy to use. It comes with a dual-line control that makes it perfect for performing excellent tricks without complication. Although it has a sleek and simple design, it comes in an attractive rainbow color that looks great in the sky. So rest assured that this kite will impress the kids too, making it a great option for those who plan on flying kites with kids.
This kite doesn't have any rods that will break even if it crashes, making it a great option for someone with beginner or intermediate level skills. A kite that can endure multiple trials and errors without damage is a good option if you're still learning how to fly a kite or brushing up your skills.
Other Consideration
The price is something to consider as it's on the expensive side compared other types of stunt kites – like the more common delta stunt kites for example.
Pros
Simple design
Easy to fly
Durable
Needs no assembly
Good for practicing
Cons
3. Handmade Kite Parrot by Flykite
This handmade parrot kite by Flykite is a fun and reasonably priced option, particularly for those who need something that looks great in the air.
What we like
This kite is hand-sewn with durable and weather-resistant fabric, which would appeal to you if craftsmanship is a major consideration. The parrot shape makes it incredibly eye-catching, especially as it soars across the sky. So you can rest assured that this option will make your kite flying experience more fun and exciting.
Because of its weather-resistant material, you can wash and clean the kite with water without causing any damage. It has excellent flight properties which makes it perfect for both kids and adults of all skill levels.
Pros:
Unique and striking design
Weather-resistant
Easy to wash
Easy to fly
Durable
Cons:
Not ideal for kite tricks.
4. Handmade Kite The Bat by Flykite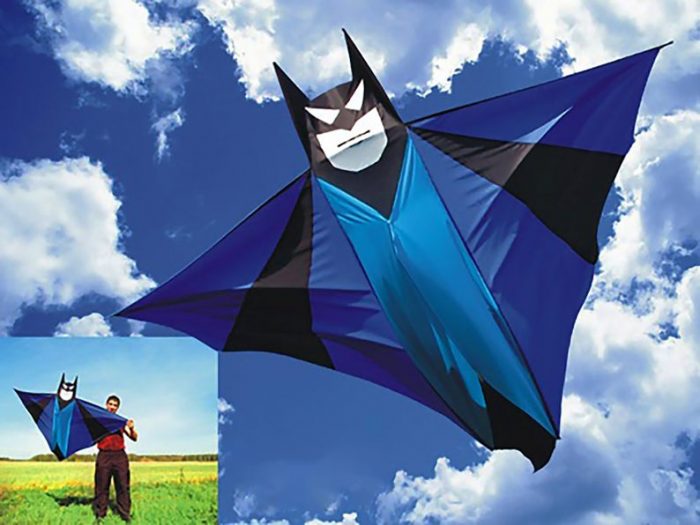 This quirky Batman-shaped kite can be a cool addition to your collection and particularly appeals to those who like novelty kites.
What we like
This kite is perfect for collectors and fans of the beloved Gotham superhero. The unique and exciting design will certainly add a lot of fun to your kite flying experience. The kite is made with a durable material that's resistant to different weather conditions.
Other considerations
This Batman kite is costs slightly more than the other handmade kite on this list with the same material and functions.
Pros:
Fun and unique design
Durable
Weather-resistant
Easy to wash
Easy to fly
Cons:
Slightly pricey
Not ideal for kite tricks
5. WindNSun Ez Sport 70 Polyester Ripstop Stripe Dual Control Sport Kite
This sport kite with durable fiberglass airframe is another excellent choice, particularly for more experienced kite-flyers.
What we like
This kite with dual-line controls is easy to launch and control and is ideal for performing impressive maneuvers in the air, especially for experts. The airframe is made of durable fiberglass that can survive crashes. Another impressive feature of this kite is its wide, 4-inch wingspan which makes it a perfect kite for adults.

Other Considerations:
This kite comes with an airframe that could likely get damaged if it crashes against hard surfaces. While this kite uses a fiberglass frame and is unlikely to break easily, that doesn't mean it can survive repeated crashes over a long period of time.
Pros:
Easy to control
Durable fiberglass frame
Easy to launch
Wide wingspan
Cons:
Needs at least 7 mph wind speed to perform perfectly
Not ideal for beginners
6. Mint's Colorful Life Delta Kite for Kids & Adults
This simple yet colorful delta kite offers great value for money and is ideal for both adults and kids of all skill levels. So you might want to consider this if you're in the market for kids' kites too.
What we like:
The bold and bright color of this kite and the 9.8 feet long ribbon tails make it a perfect choice for a fun day at the park or beach especially if you're taking the kids with you. The kite comes with an long string of 300 feet and is very easy to launch even with a light breeze.

Despite it being fairly large at 63 x 32 inches, you can easily fold it up into a smaller, 18 x 5 inches dimension. You won't have any trouble throwing it into your bag if you have to take it along on a trip.
Other Consideration:
This kite doesn't really have too many drawbacks. However, keep in mind that it's a single-line kite and it won't have the capability to perform fancy movements like stunt kites. So it's not too ideal for professionals who want something to help them practice kite tricks.
Pros:
Bright, attractive colors
Comes with tails
Value for money
Portable
Easy to launch
Cons:
Can't perform precise movements and kite tricks
7. Prism Synapse Dual-line Parafoil Kite
Another great option, this dual-line control parafoil kite ranks lower than others of the same type on this list only because of the slightly higher price point. Keep in mind that the price point is standard for kites from the reputable Prism brand.
What we like
With no wind frame to break if it crashes, this parafoil kite is ideal for beginners who might have to go through some slip-ups while learning how to fly like an expert. The absence of a frame also makes it incredibly easy to fold down to carry in a bag.

Like most adult kites, this kite is quite large at approximately 53 x 20 inches to give you solid performance while in the air. You can also fold it down into a 10 x 5 x 2. 5 inches bag that you can take anywhere.
Pros:
Easy to assemble
Ideal for beginners
Easy to carry
Comes with a storage bag
Dual-line control to carry out desired movements
Cons:
A little pricier than others
Bottom line
This list highlights a wide array of kites with different features and different price points to suit all skill levels. If you're an expert kite-flyer, you'll want to go for kites that can perform precise maneuvers and tricks. If you've just taken up kite-flying, play it safe with the foil options that won't break easily even if they crash.
Don't forget to check out other kite strings and accessories to take your kite-flying experience to a new level. You might even want to check out a little bit of history on how kites became a worldwide activity in our guide on the history of kites.