6 Best Kites for Beginners to Get Started

9

min read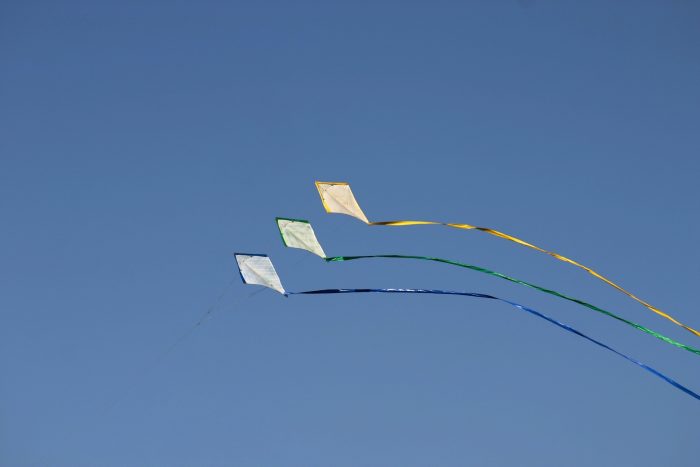 When you're a beginner at kite flying, your choice of kite makes a lot of difference in how quickly you learn the sport. Starting off with the right kite can also influence your passion for the sport, so picking a kite is an important decision to make. That's why it's crucial to shop around and find out the best kites for beginners to help you get acquainted with the sport.
This post will help you learn about the best beginner kites as well as a few basics about kites. This will make it easier to understand the sport better and guide you in your shopping journey.
The Basics of Kites: An Overview for Beginners
Before we can help you find the best starter kites for beginners, it's important that you learn a few basics about what's available so you know what options you have. There are several different types of kites and line control systems, and we will take a quick look at those first. Here are some important kite basics you should know:
Single Line vs Dual Line Kites – The first thing you should learn about is the difference between single line and dual line kites. The names are pretty much self-explanatory. Single line kites are easier to understand and control for beginners. However, they have limited maneuverability so you can't really use them to perform kite tricks.

Dual line kites on the other hand offer more stability and give you better control of the kite. You can use them to perform fancy kite tricks and maneuvers. The only problem is that it may be a bit challenging for a newbie to learn the controls.
Delta vs Diamond vs Parafoil Kites – There are three main types of kites – the delta, the diamond, and the parafoil. While there are other types of kites as well, these are the main ones that a beginner should learn about when they're just getting started.

A delta kite is shaped like a triangle and has horizontal spreaders to maintain its shape. Being easier to control, these kites are great for performing tricks and maneuvers. The main problem is that the frames may be prone to breaking since you're a beginner and you may face frequent crashes.

A diamond kite has some similarities to the delta kite in the way you steer it. It also looks a bit similar to the delta, but is shaped more like a diamond. It's a very common shape in kids' kites so it may be a great option for beginners. However, the main issue again is with the frames that could get broken after a few crashes.

Parafoil kites do not have any frame and are shaped like paragliders. In fact, paragliders and parachutes were adapted from the parafoil kite, like we've discussed in the history of kites.

They have two horizontal layers that allow them to fly when powered by wind pressure. While they aren't as stable as framed kites, they're great starter kites because they don't have any frames that can be broken after a crash.
You can choose from any of these different types of kites based on what you need and how you're going to use the kite. If durability is your main priority, a parafoil kite would be your best bet. If you want to start learning tricks from the get go, you should go for a delta or diamond kite.
Top 6 Starter Kites for Beginners
Now that you have a better understanding of the different types of kites available, let's take a look at the top six best kites for beginners.
1. Best Delta Kite from StuffKidsLove
This single-line delta kite from StuffKidsLove measures 5 feet wide and 2.6 feet long. This makes it large enough to have some pull without being too overwhelming for beginners. It even comes with an 8.5 feet tail that you can attach to improve flying quality. It takes off easily and flies well in almost any weather condition, so it's highly recommended for beginners who are just learning how to fly a kite.
The frame is rust-proof and the wing is mold-proof, which adds to the durability of this kite. It comes with a complete set of assembly and flying instructions, spare parts, carry handle, anti-tangle flying line, and storage bag.
Pros
Easy to fly in any weather condition
Easy to set up
Enough pull to challenge you without being overwhelming
Rust-proof frame and mold-proof material to ensure durability
Comes with an anti-tangle flying line and other accessories
Cons
Slightly pricey
Some balance issue
Material is a bit flimsy
May not withstand repetitive crashes
2. Prism Synapse Dual-Line Parafoil Kite
If you want to jump right in and start learning how to fly dual-line kites, the Prism Synapse is an excellent option for beginners. Prism is one of the leading manufacturers of kites, so you know you can count on this model's build quality.
There are three size options ranging from 4.5 feet to 6.5 feet. The smallest is highly recommended for beginners with smaller frames because it has average pull. If you like a little bit of challenge, you can go for the medium size option, which measures 5.5 feet.
The Prism Synapse's high-aspect ratio wings give it high precision steering capability. It's very stable as well and flies well in most weather conditions. This makes it perfect for beginners who wish to eventually learn kite tricks because the high precision steering and dual line controls let you perform kite stunts and maneuvers.
Pros
Three different size options
Withstands crashes since it has no frame
High-precision steering makes it easy to perform kite tricks
Flies well in most weather conditions
Cons
May be challenging to get acquainted with dual-line controls
Lines tangle up easily
Requires assistance to launch in low wind
3. Hengda Kite Octopus Foil Kite
If you're looking for a laidback kite-flying experience, the octopus foil kite from Hendga Kite is an excellent choice. This bright and colorful kite comes in four different colors – red, orange, purple, and pink. The fun design makes it highly appealing to kids, but it's just as fun to fly for adults as well. It measures 16 feet long and 2.6 feet wide, making it prominently visible even when it's flying high.
This octopus kite flies really well on windy days, but it's just as fun to fly on a less windy day if you're ready to do a bit of running. It comes ready to fly out of the box so setup is minimal, and it's extremely easy to fly even for beginners. This makes it one of the most highly recommended kites for beginners who are just learning how to fly a kite.
Pros
Fun octopus design
Four bright color options
Flies well in most weather conditions
Easy to set up
Easy to fly
Affordable
Cons
Occasional launching issues
Lines tangle up easily
Material is slightly flimsy
Sewing tends to unravel
4. 5M Large Octopus Parafoil Kite from Amazona's Presentz
This vibrant octopus parafoil kite from Amazona's Presentz is an excellent alternative to the previous option. It's slightly bigger at approximately 16.5 feet long and comes in a popping purple shade that looks really attractive in the air. The ease of control and flying stability make this one of the best kites for beginners.
In addition, it's made of durable nylon that doesn't tear very easily even if it gets caught in tree branches. This makes it great for beginners who haven't yet mastered fine control. While a decent wind is ideal for flying this kite, you can still fly it in low winds with some assistance when launching it.
Pros
Bright color and fun design
Easy to control
Stable to fly for beginners
Durable nylon to withstand crashes
Flies well in decent wind
Affordable
Cons
Difficult to launch in low winds
Lines tangle up easily
The knot comes loose easily
5. Nylon Diamond Kite from Chipmunkk
If foil kites aren't your thing and you want something a bit more affordable than the first few options, the Chimpmunkk nylon diamond kite is a perfect choice. This diamond kite has a sleek, diamond-like design to make sure that it flies smoothly in almost any weather condition. It also comes with a streamer tail that adds a special effect as it soars in the air.
Made of ripstop nylon, the wing material is extremely durable and can withstand a few crashes. It comes as a two-piece set so assembly is a breeze. You should be able to get the kite flying within minutes of unboxing it. It is easy to launch and fly as well, which makes it highly recommended for beginners.
Pros
Flies smoothly in most weather conditions
Spinner tail creates special effect during flight
Durable ripstop nylon material to withstand crashes
Easy to assemble
Easy to fly
Affordable
Cons
Frame might not withstand constant crashes
May have launching difficulties in low winds
6. Mint's Colorful Life Devil Fish Delta Kite
A beautiful bright colored delta kite good for all ages and skill levels. This well-designed kite is quick to assemble and incredibly easy-to-fly in all wind conditions.
The stingray design will also make this kite stand out in the skies and is fun to watch as it flies around.
Pros
Unique and fun design
Made from durable materials
Inexpensive
Easy to assemble
Comes with a carrying case
Cons
Not all kite frames are as durable as others
Can be difficult to control in windy conditions
Bottom Line
There's a lot that goes into finding the best kites for beginners, because you need to invest in something that helps you build your kite flying skills while fueling your passion for the sport. It's important to carefully look at the pros and cons of each of these kites so you know which one is best for you.
This is crucial because what's perfect for someone may not be a great option for you. Consider your needs, uses, and budget as well as your plans for the future while making your purchase.