9 Best Carrom Boards to Play Your Next Game

9

min read
Carrom is a fun tabletop game that has been around for over a hundred years. Whether you're a casual player or someone looking to be the next world champion, you want a carrom board that allows you to enjoy the game. In this post, we'll look into the features you'd want in a quality board and offer up a few of our best recommendations for the best carrom board you can buy.
Carrom Board Buying Guide: Things to Consider when Buying a Carrom Board
When looking for a carrom board, you should consider the following five things when selecting the board you're going to buy:
Price
Size of the board
Board material
Frame thickness
How much are Carrom Boards?
New carrom boards have a surprisingly large price range largely due to the build quality of the board. You can probably buy one for as low as $50 and the most expensive ones can run upwards to a thousand dollars. The median range for a quality board is generally around $100-200 and that's largely because carrom boards have a pretty big wooden frame which can be expensive to manufacture.
What Size Carrom Board Should I Buy?
Carrom boards are square in shape and come in different sizes. Most game boards are generally between 26" x 26" and 29" x 29" when it comes to their playing surface. The professional or tournament carrom game board size is 29 in by 29 in or 74 cm by 74 cm.
If you're looking to play casually, a smaller board might be better since smaller boards are cheaper but if you're looking to play competitively, then choosing a professional size makes more sense.
What Wood Material Should I Consider?
Carrom boards are generally made of either plywood or baltic birch. The sealing techniques used by the manufacturer will ultimately determine the smoothness of the playing surface and whether or not the board's playing surface will warp as time and climate will impact the game board as it is stored. Since wood can warp when exposed to prolonged humidity, it's best to consider the wood quality and finish when selecting your board especially if these game boards will be stored in a non-climate controlled area.
What about Board Thickness?
When it comes to the actual play of carrom, the striker's rebound from the frame is dependent on the thickness of the wooden frame. Casual boards or non-professional types of carrom boards will likely be around 2-3 inches or 5 to 8 mm while professional frames will be around 7-9 inches or 18 to 24 mm.
Other Things to Consider
Be sure to check if the carrom board you buy offers all the accessories you need to play: Coins, Striker, and Powder. If not, you might have to pay for those separately which could be another $20-30 depending on what accessories you end up buying.
Now that you have a better idea as to what you should be looking for in a carrom board, let's review the 10 best carrom boards you can buy.
The 9 Best Carrom Boards
1. Hey! Play! Carrom Board Game
Our top pick is the Hey Play Carrom Board Game. It's reasonably priced and comes with 22 playing pieces, 2 cue sticks a bunch of discs and is beautifully designed.
What We Like
This is a well designed and crafted board with a moderately thick frame and overall smooth playing surface. It's rather sturdy and should last for many years when playing with friends and family. The price point is really good relative to other carrom boards. In addition, the felt-lined pockets make retrieving coins a lot easier.
Other Considerations
It's not professionally sized (26″ x 26″ vs. 29″ x 29″) but it's still a good sized game board. The wood quality is good but not as well-constructed as some hand-made carrom boards. Not the smoothest of boards.
2. Sport King 27-27 Inch High Finish Carrom Board with Free Coins, Striker and Powder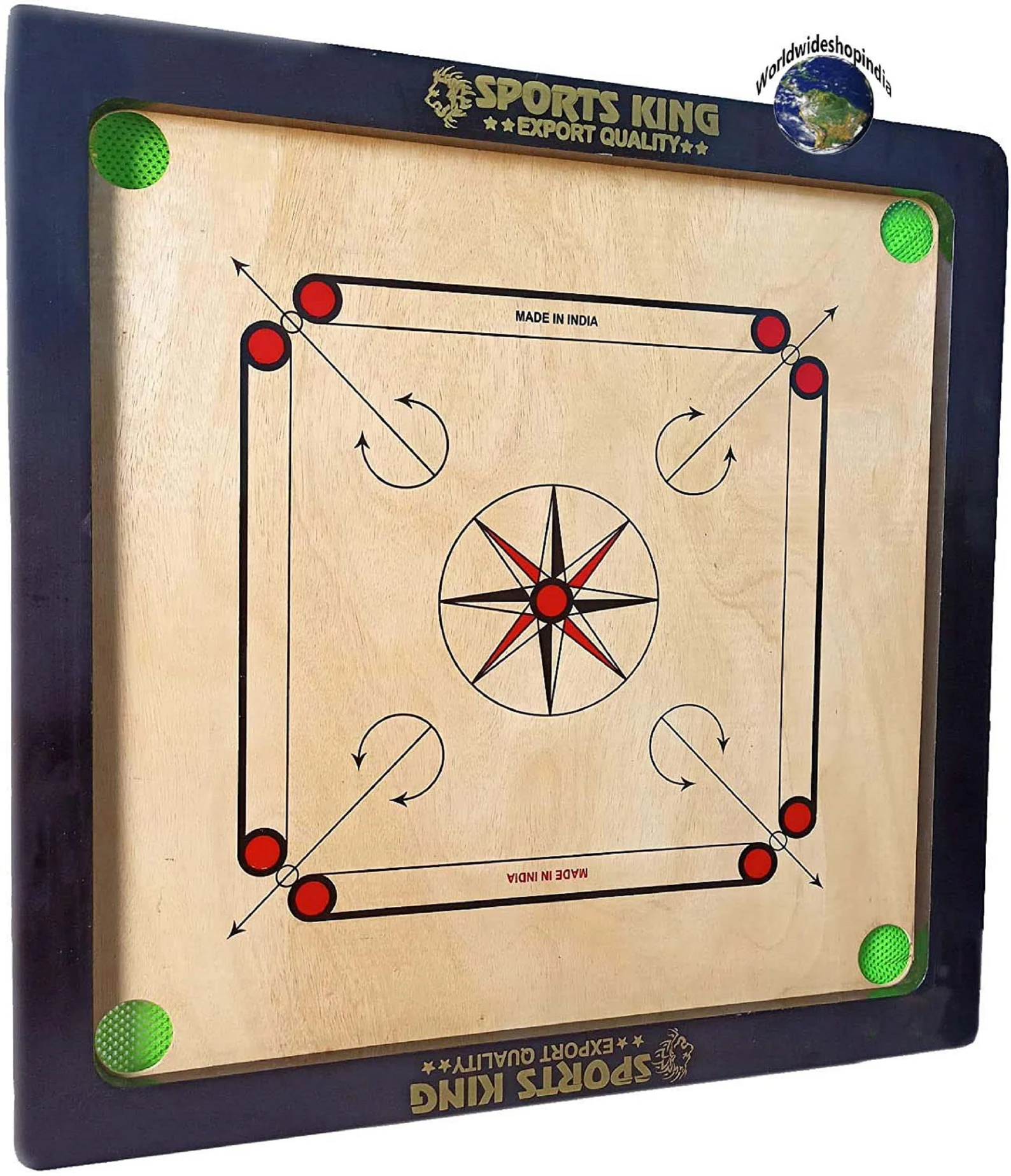 The Sport King Carrom Board is a slightly undersized carrom board that is handmade and beautifully finished. The Etsy store WorldwideshopIndia has a fabulous reputation and is known for creating quality products.
What We Like
A quality built water resistant gaming board made with India plywood with hard wooden borders. A beautiful finish and carrom men will have good rebounding capabilities when hit by the striker.
Some Considerations
Besides a smaller playing surface that isn't regulation sized, there's a lot to like about this carrom board. It's moderately priced, so not necessarily inexpensive but besides that, we really like this board.
3. Tabakh Precise Finest 16mm Carrom Board
The Tabakh carrom board is a regulation sized board that is finely made with great board thickness and includes everything you need to play the game.
What We Like
It's regulation-sized board, so for those competitive carrom board players, this is definitely a solid board to use. The wood borders are really thick, so great for rebounding during gameplay.
Some Considerations
There's limited quantities of this board, so every so often this board is sold out with no real notes on the next availability. The lines are a bit crooked, but not a major issue since the rest of the board is very solid.
4. Tabakh Precise Finest 12mm Carrom Board
The Tabahkh 12mm Carrom Board offers the same build and quality as the previous 16mm carrom board but the thickness of the board is 12mm vs. 16mm.
What We Like
It's still regulation-sized and can still be used in tournaments and professional play. It's still well made with natural plywood and an incredibly smooth playing surface and a nice overall finish. It really is a good all around board that's good for beginners.
Some Considerations
Since this board has 12mm thick boards vs. 16mm, this would mean less bounce for the carrom men when rebounding which may or may not be a problem to some players.
5. Sarathicrafts Professional Tournament Club Carrom Board
This is another professional / regulation-sized carrom board from Sarathicrafts. Handmade, a 29″ x 29″ playing surface with a decent thick board at 10mm.
What We Like
It's a beautiful well-made carrom board that should stand the test of time. It's a solid flat board that can be used for tournament play for the competitive types. It's also made in India where this game originated from.
Some Considerations
The big thing to consider is that custom and import duties are paid by the buyer which may increase the overall price (which is already quite hefty).
6. Surco Vintage Carrom Board
Surco is a reputable brand that has introduced a regulation sized board with 8mm thick walls.
What We Like
This board is well designed and durable. We like how this brand offers different carrom boards with varying board frame thicknesses. At 8mm for this particular board, it's a decent amount of thickness that should give players a good bounce when they flick their strikers. This board is made from Indian plywood which generally has a reputation of solid durability and it is also regulation sized at 29×29.
Some Considerations
Your mileage may vary with this board. It's a well known manufacturer of carrom boards but the quality definitely varies from board to board. Most boards generally are well received and have rave reviews, but there are a decent number of boards that have been noted to have scratches or unfinished surfaces and such. It's not the most expensive board, but it's not inexpensive either.
7. KD Golden Carrom Board
8. TMG Deluxe Wooden Large Size Carrom Table Game Set
9. WoodberrySports Professional Carrom Board
Frequently Asked Questions
How many coins are in a carrom board?
There are 19 coins or pieces in a carrom set. 9 coins for each player that are a specific color and one for the queen (generally red).
What is a regulation-sized carrom board?
Regulation-sized carrom boards are 29″ x 29″ or ~74 cm x ~74 cm. The most competitive players will buy these boards since they will compete in tournaments that can have some lucrative prize packages.